Joan Adler is stupid on horses
Joan's story
Joan's passion for horses started while riding backyard ponies and through Pony Club.
As a young adult she became a working student with Canadian Eventing coach Michael Herbert, FBHS.
Discovering dressage led her to train with German instructor Dr. Renate Peiper,
who encouraged Joan to go to Germany to achieve her Bronze Reiterabzeichen (Rider Performance Medal).
Joan became a certified Canadian Equestrian Coach
and began riding with Jane Rincker, whose eye for detail proved very influential.
The Canadian dressage scene was strong and provided clinic auditing opportunities from such Masters as
Shultheis, Peilicke, Michaelis, Nigli, deKunffy, Schumacher, Balkenhol and Zettl.

Moving to a farm in Prince Edward County gave Joan the opportunity to offer lessons and training,
while continuing to ride and train her own horses.
While raising a family and assisting in her husband's business,
Joan began her next phase of riding with the help of Eddo Hoekstra.
His enthusiasm and dedication for Classical riding principles advanced both her competitive and training aspirations.
In 2005, Joan discovered Balimo.
With Jill Hassler-Scoop's support, Joan 'signed on' for her Balimo 'journey'.
Over the next two years, she attended several Seat Symposiums and Instructor Training Workshops.
Working with Eckart Meyners and Hannes Müller proved beneficial to both Joan's riding and teaching.
The idea that 'striving for excellence' can be an amazing learning journey, especially when partnered
with a four legged friend, has made this program particularly meaningful.
Joan graduated as a Balimo Instructor graduate in 2007.
She was invited by Hannes Müller to attend the German Riding School for an intensive week of training
in October 2007. It was a truly unique opportunity.
Integrating Balimo exercises and it's methodology into her teaching
has enhanced Joan's ability to help both horse and rider.
With this in mind, Joan looks forward to meeting you and your horse and exploring the possibilities!

September 2010, Joan spent a month in Germany, studying under Martin Plewa.
She was successful in passing
her Trainer B license in BOTH dressage AND jumping! (equivalent to EC Coach 2).
June 2011, Joan returned for two weeks to Germany to take exams for her Silver Performance Medal.
September 2011, she spent the month studying to take her International Trainer A license (equivalent to EC Coach 3).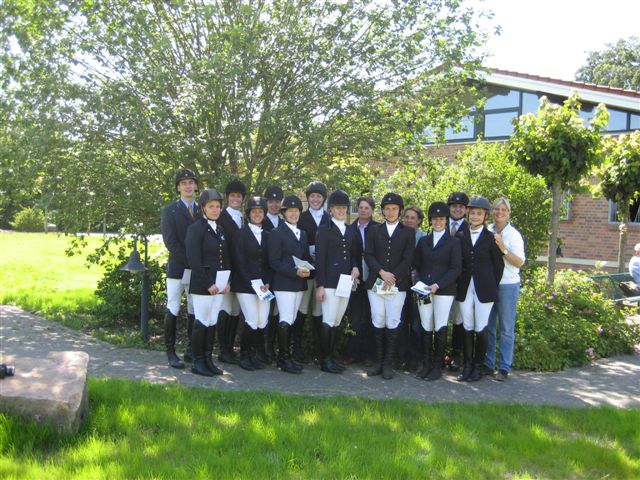 September 2013, Joan spent a week in Germany participating in a two day refresher course
working again with Eckart Meyners .
October 2013, Joan began a six month process of becoming certified as a Pilates Instructor
on the Reformer equipment.

January 2014, Joan introduced her new program for riders - The Rider's Edge.
Although it is in it's infancy, this program will have several key 'offerings' for riders to achieve their goals.
Beginning with fitness, the Reformer exercises strongly complement the Balimo exercises/principles.
Watch in the future (2014) for distance learning + more ...
Joan looks forward to sharing her knowledge and expertise with the riding community.
top