my master's home
Emma's Dlog




Here are some of my stories.
I hope you enjoy reading about my suffering.
Hi, my name is Emma
Between the beatings I guess my life is pretty good,
but my family's mood swings are getting to me.
You know how it is ... one moment life is perfect,
the next moment we have a crisis on our paws.
It makes me want to bark!
What is it with these human types anyway ... maybe not having a tail to wag is really a problem.
Sure I get fed and I do get to sleep with my humans
and they pet and groom me so it's not all doom and gloom ...
and they do have heated floors which is great to lie around on ... ya know.
I'm frequently doing stuff in the barn which I have to admit is a nice aspect of life around here.
Squirrel chasing is a great hobby and helps me relieve some stress and it's a good workout.
Cats can be fun too, but they do get a temper on if you aren't careful.
You got to watch out for the horses though
dog, their paws are big and if they step on you, you're basically road kill.
Sometimes I think I should move on
and see what adventures life will bring me with some other house mates.
But I hate to quit on these folks, as I know they are doing their best to live up to my expectations.
I'll give them a little more time to see if we can try to find a way to enjoy our lives together.
I'm not the kind of dog that goes out of her way to greet my house mates but I mean ... I do try.
I run around and grin and bark and wag my tail if they need a boost
and I try to act sort of sensitive like when they are low.
I try not to bitch about the sometimes shoddy culinary attempts ...
I mean who eats canned food anymore anyway?
It's just the beatings ... but ... well it is making me tougher I'll say that.
Anyway, I've got to split and go chase something.
later,
Emma
...

Hiya ...
I guess things are okay right now.
I had my nails clipped this morning ... dog I hate that.
I don't know about you, but my humans can be very rough on a sweet thing like me.
I think cruelty is a human art form.
Anyway after all the shit that's been going down,
I decided I'd get my family together have a good bark and clear the air.
Things were barked that might be considered mean,
but I think we all got things off our chest.
When I bark at them they always look as if they don't know what I'm saying,
but of course when they bark to me,
they expect me to understand and if not
I'm just a dumb dog.
So are humans cruel?
I got to eat so I'm gonna keep my mouth shut.
Well enough moaning.
bark at ya later,
Emma
...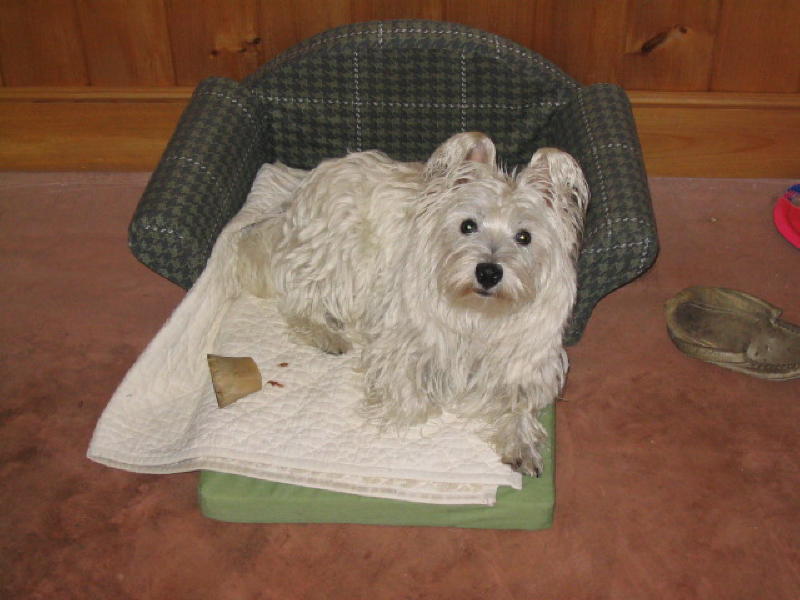 My family has really bought into the class system big time.
They think they have some elevated status because they earn money, read books
and bark in their somewhat complicated way.
They look down at me caus I'm just a lowly dog.
Now I am short in stature it's true, but my heart is big and strong.
So let's just compare for a moment.
They can't hear or smell any where near as well as I can.
I run faster ... and how many can actually lick themselves ... umm ... you know ... there.
I don't need to go shopping for clothes as I run in what I brung.
We give birth to multiple pups most times which is a more efficient way
of getting an instant big family.
Truthfully, I was an only pup ... but I think this has given me some empathy
for my humans failings.
We dogs are far less judgmental and always try to look on the bright side ...
mentally tougher I'd say.
How many dog shrinks have you heard about? ... point made.
But the sad thing is ... it's all about money.
If you got it ... you got power ... and if not ... it's a dog's life.
bark to ya soon,
Emma
...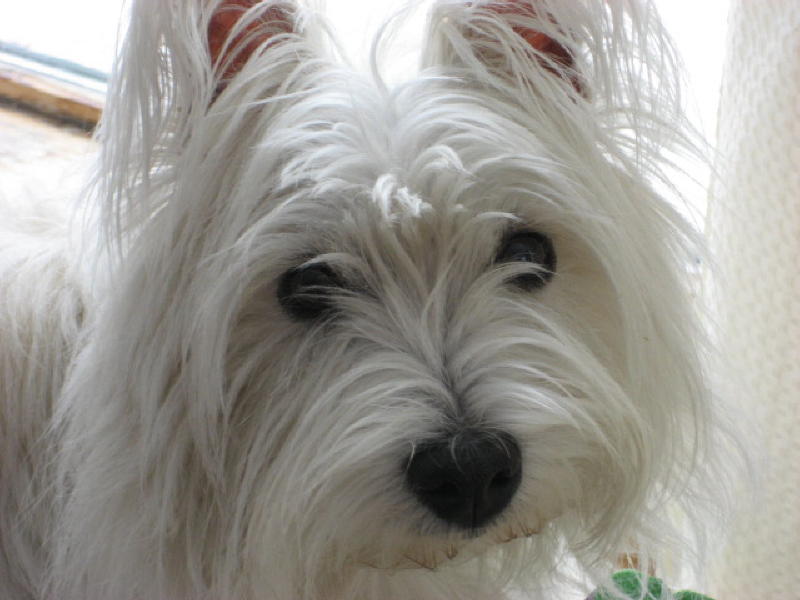 Dog I hate being cute!
I can't go anywhere without getting hit on.
It is a bit like being a big star ... but without the paycheque.
I tried getting pissed off ... literally ... but they only laugh and then happily wipe it up.
Oh she's so cute ... it's really sickening.
I have been considering using some of my considerable defence weaponry,
but heck let's face it,
I don't have the size to stand up to the foot which will surely follow.
I find rolling around in something really smelly and disgusting and getting messed up
is working pretty well ... the junkyard dog thing.
I love it ... they see me and want to come closer and then just before they hit on me
their beady little eyes glass over
and they stagger away looking over their shoulder at me with revulsion.
Smell works and it's rewarding.
Not nice you say? ... I'm just teaching them manners.
Another trick is to avoid getting my nails cut,
which is usually not too difficult with my inattentive house mates.
Then when someone picks me up and starts their petting and cooing and stroking ...
I accidentally... not ... scratch them on any exposed skin
which causes them to promptly cease and desist.
Okay I admit there is a down side
... literally ...
being suddenly dropped like that can hurt.
But most times it beats the alternative.
And ... I get a kick out of it.
Incessant barking can also be an effective strategy,
but if you exceed your house mates noise threshold,
it can be followed by a swift kick and pain.
So I'm careful with that one.
More tips will follow but here comes someone now, so I've gotta roll ... ha ha.
bark at ya soon,
Emma

...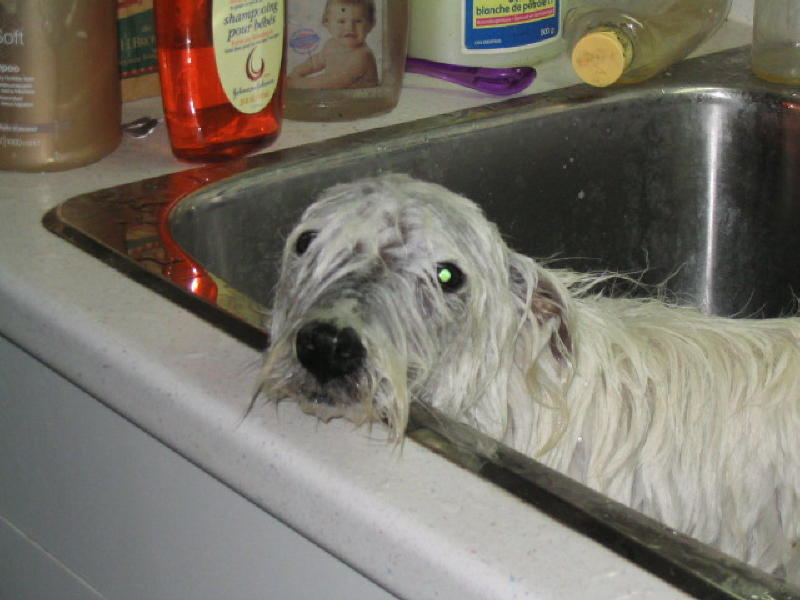 Who here likes a bath?
Yeah okay, for you human types it can be relaxing what with all your smelly bath products and all.
But for me it totally undoes all the work I have done to get my look ... and stink.
It takes a while to get a really good stink and to get your hair matted in the way I like it.
Just when I get it really working for me ... and nobody wants to molest me,
it's bath time again and everyone wants to get a piece of me again.
I hate it ... Bark!
Of course I have ways of getting them back.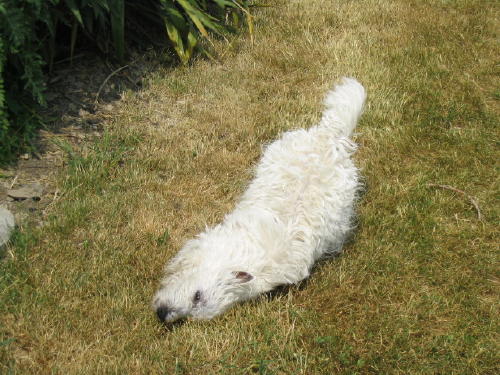 For example, as soon as they dry me off and let me go,
I go find something to roll in ... ha ha ha.
...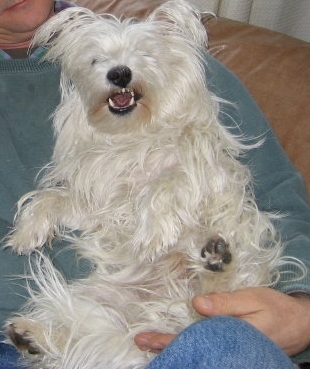 You could say that always trying to make life difficult for the hands that feed me,
is a less than admirable trait.
Bark it ... I say ... you don't like it ... bark off.

later ...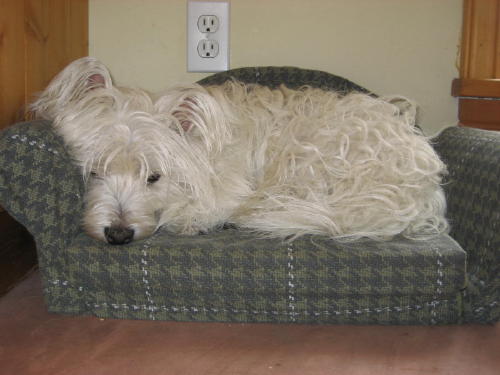 Okay, I'm settled down now.
Sorry to get so uptight.
I was just having an attitude moment.
Maybe I'm lonely.
I haven't been getting any ... heck, we'll get into that later.
big bark to ya,
Emma
So I'm getting pretty gifted at kicking the ball around and I want to join a soccer league.
I start barking to various organizations and what do you know,
no dogs allowed ... and no dog leagues either.
This is typical of human thinking ... their tribal tendencies.
A failure to recognize the gift of diversity ... fear of those who are different.
Look after your own and bark everyone else.
Seems like they have large brains ... but small minds.
A deadly combination ... history proves it.
Thanks to human limitations,
I have to kick the ball to score on myself ,
which is harder than it sounds.
Anywhos, have a nice day,
and don't worry too much about me.
I'll be okay ... I hope.
bark later,
Emma
...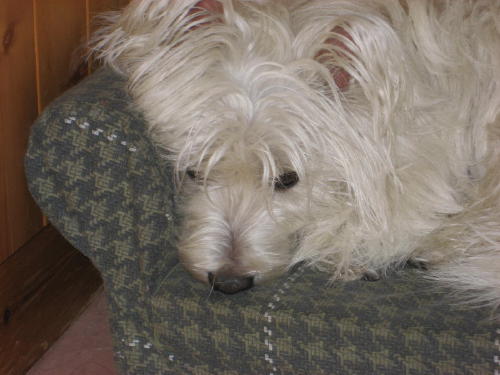 Well it finally happened,
I got kicked ... in the head.
Barkin horses have no sense of humour.
Got me right near the eye ...
drew blood.
It was Luca.
Now that's a horse who kicks like a mule.
Made me want to rethink things a bit.
I was just trying to raise the spirits of my equine friend,
but what do ya know?
Apparently not receptive to my well intentioned efforts.
RESPECT?
I don't get that around here.
SO
It's no more little miss nice dog.
I'll just mind my own business.
Everyone can just bark off.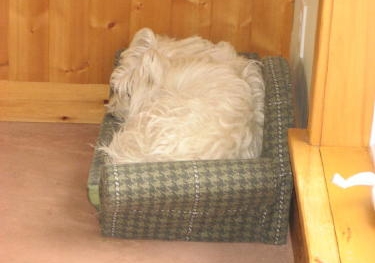 ...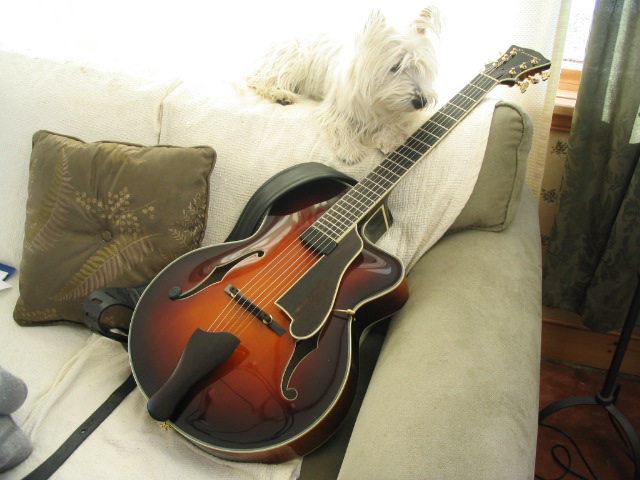 Alright ... so my master (as he likes to be called)(ha ha) thinks he can play the guitar.
Have you heard his stuff?
Anybody can do that.
And to prove the point I have set out to learn this instrument.
Of course my physical characteristics will require a slightly different approach.
I refuse to be dogmatic about technique.
So ... my new and novel approach?
I use my tongue a lot ... it makes a bit of a mess, but a nice soft sound.
I use my teeth as well although I know I will be accused of plagiarizing
Jimi
with that.
I also use my paws and claws ... in fact anything to generate sound.
I even rub my backside on it ... but don't tell him.
Sometimes I'm just a crawling all over the thing ...
an innovative sound no doubt.
"Dog and Roll"
music I call it
bark bark bark bark
I'm writing a piece called:
"Doggie Doo Wap A Dog Do Do"
.
I get the
"Wap"
bit with my tail ...
the
"Do Do"
bit I will leave to your imagination.
Okay, for sure my music might be an acquired taste,
but so is his, so what's the difference?
Anyway, I'm off to clean up his guitar.
How do you get rid of claw scratches? ... oops.
bark at ya later
(if I survive)
Emma
...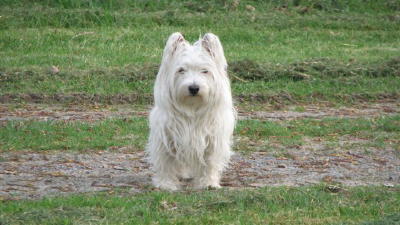 Well, Dog Dammit.
I got kicked out of the house.
literally
Was it all the damage to my master's guitar?
Forced outside to live in an old run down dog house.
This about breaks all the rules as far as I'm concerned.
Yeah sure I take liberties but to force
me
,
a highly developed pure bred to live like a
mutt
is too much.
I gave it a go,
I even thought it would be a nice break.
But with all the strange creatures who come out at night,
and the howling of the coyotes,
the scent of dead skunks,
and all the creepy bugs and all,
I just couldn't deal with it.
So I burned the place down.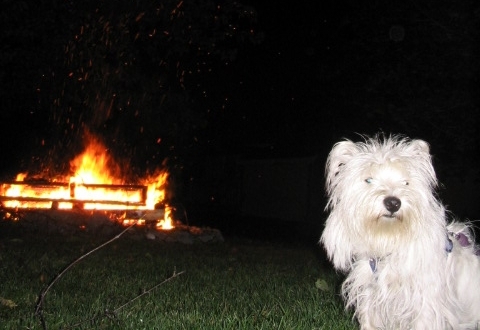 Now what ... I hear you asking?
My plan is to hang out at the front door and look as miserable as possible.
Basically play the old sympathy card to get back inside.
How about the old
play dead
trick?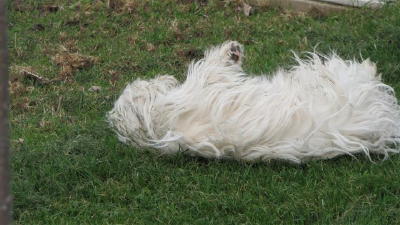 Brings a tear to my eye just lookin' at me.
It might not work with his royal highness,
but it might break the girls.
Dog it gets cold at night.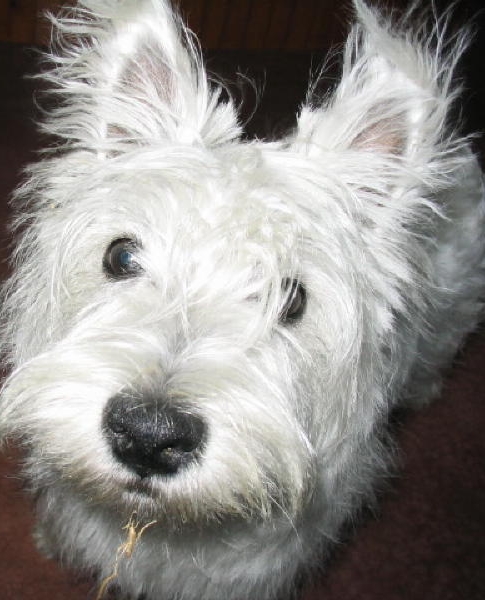 Maybe now's the time to move on ... hit the road.
But I kind of like it around here.
It's been nice and cushy.
Dog it all anyway
I'll somehow let you know how it all works out
bark later,
Emma
...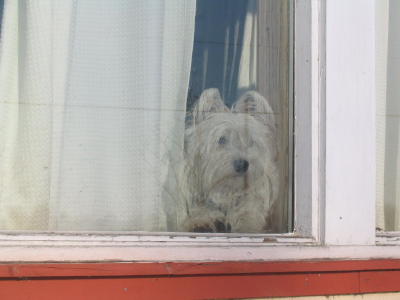 Well it worked ... sort of.
They let me back in.
But I'm under strict house arrest.
I still go out to do my business,
but then straight back in to do my chores.
No running to the barn and chasing small rodents.
No feeding the horses and leaping around the loft terrorizing the local vermin.
No chasing balls around the yard ... my soccer career is on hold.
No more music and I have to sleep on the cold hard floor.
No snacks from the table ... just dry hard kibble.
Nobody talks to me, cuddles me, or holds me.
No rides in the car or truck.
It just sucks.
DOG BARK IT
Now I need a plan ... how to get back in their good books.
hmm
I'm looking for suggestions here folks.
Work with me on this ... I'm very delicate right now.
One idea is to show them some baby pictures of me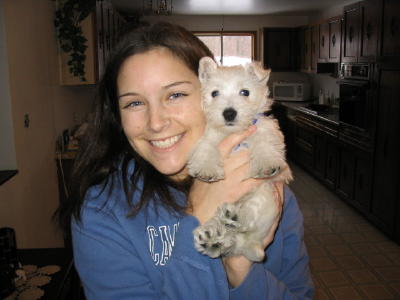 happier times for sure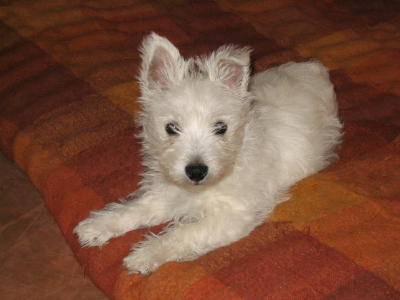 Well, we'll see how it works.
Bark to ya later,
Emma

...
Stay tuned as I'm keen to discuss more of my hobbies and hopes for the future ...
along with all the doggie dirt I know you love.


...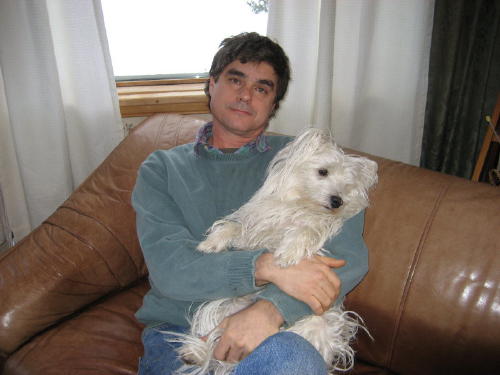 top